THE 2019 SHAWSHANK HUSTLE IS SOLD OUT!
On August 17, 2019 The Shawshank Hustle celebrates its 5-year anniversary on the same weekend that The Shawshank Redemption celebrates its 25th anniversary of the filming of the movie! What does this mean for you, the participant…well it means that you will NOT want to miss this year's Shawshank Hustle! Special events at the reformatory, a star-studded list of actors in town on race weekend, special giveaways to commemorate the 5th running, a very LARGE field of runners, and much more, make this the must-do event of the summer!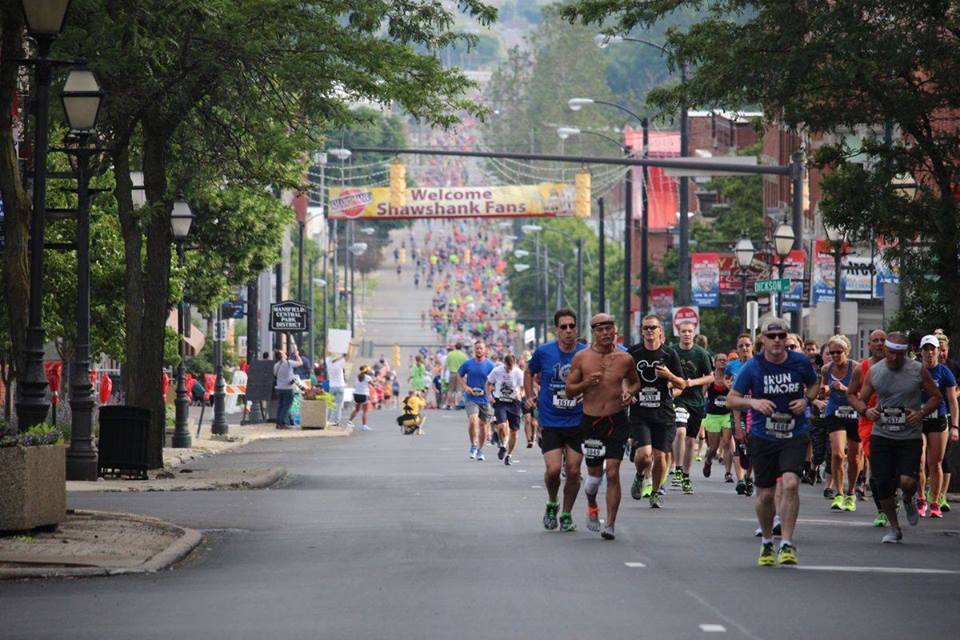 Race Date: Saturday, August 17, 2019
Race Start Time: 7:30am (SHARP)
Race Location: The Ohio State Reformatory
100 Reformatory Road
Mansfield, Ohio 44905
Schedule of Events:
Friday, August 16
11:00am-8:00pm Packet Pick up
11:00am The Prison Marketplace opens/Ohio State Reformatory tours begin
7:00pm Reformatory tours end
Saturday, August 17
5:00am-7:00am Final Packet Pick up
5:00am The Prison Marketplace opens/Ohio State Reformatory tours begin
4:30am Parking Opens
6:30am Race Corrals open
7:00am Registration closes
7:15am Welcome from Ohio State Reformatory and Mansfield Tourism
7:20am National Anthem
7:25am Final instructions from race director
7:30am Start
9:00am-2pm Post event party at Phoenix Brewing Company, 131 N Diamond St., Mansfield
9:30am Course closes
9:30am Awards ceremony to be held at the start line
Packet Pick-up Options:
Friday 11am-8pm (race site)
Saturday 5am-7am (race site)
If you would like to pick up someone else's packet, please have a copy of their ID with you.
NO Packets will be given out without proper ID.
Registration:
Registration is currently open and closes when capacity is reached (2,500 participants)
STANDARD ONLINE REGISTRATION
$45.00 – August 17, 2018 thru December 31, 2018
$50.00 – January 1, 2019 thru May 31, 2019
$55.00 – June 1, 2019 thru July 31, 2019
$60.00 – August 1, 2019 until Race Day or Sell out, whichever comes first.
MAIL ME MY PACKET ONLINE REGISTRATION
*If you would like to skip the lines at packet pickup, or are travelling from out of town and cannot pick up early, no worries, we can package and ship your items directly to your home! The price for this option is as follows:
$65.00 – August 17, 2018 thru December 31, 2018
$70.00 – January 1, 2019 thru May 31, 2019
$75.00 – June 1, 2019 thru July 31, 2019
VIRTUAL PARTICIPANT ONLINE REGISTRATION
*Do you want to be a part of The Shawshank Hustle but cannot make it to Mansfield on Race Day? No worries, we've got you covered! Sign up for the virtual run and we'll mail you your bib, shirt, medal, bag, custom ASICS finisher's socks and you can participate from your location on your own schedule! Items will be shipped in early August to arrive well before race day. The price for this option is as follows:
$55.00 – August 17, 2018 thru December 31, 2018
$60.00 – January 1, 2019 thru May 31, 2019
$65.00 – June 1, 2019 thru July 31, 2019
Race Participants Receive the following:
Custom Shawshank Hustle Tech Shirt (size is guaranteed if registered before July 14)
Shawshank Hustle Race Bib with Name Personalization (deadline for name on bib is July 14)
Custom FITSOK finisher's sock to commemorate 5 years of Hustlin'
Custom Shawshank Hustle drawstring backpack
Shawshank Hustle finisher medal
The 2018 Medal was one to remember...just wait until you see 2019's!
Participants also receive the following perks:
Free admission to The Ohio State Reformatory (Valid through 2019 tour season)
Free ride on the Richland Carrousel (Valid through 2019 season)
Free admission to Mansfield filming sites
Electronic Chip timing
On course hydration and Post-race food
Chance for race awards
Actor meetings as available
FREE Professional Photography
More FUN than should be allowed!
Parking Details:
Arrive Early! Arrive Early! Arrive Early!
All parking for the 2019 event will be onsite or at a lot adjacent to the facility and within easy walking distance.
Free Parking: Off site Parking will be located in a gravel lot adjacent to the Reformatory, via a short walk to the start line. Parking attendants will provide direction (180 East Longview Ave, Mansfield, Ohio).
Pay parking: ON SITE opens at 4:30am at Ohio State Reformatory 100 Reformatory Road, Mansfield Ohio. The cost is $10/vehicle and will benefit The Ohio State Reformatory Preservation Society. On-site parking is a mixture of pavement, gravel and grass. There are 350 parking spots available here. On race morning we will post on Facebook once this lot is no longer accepting cars.
Handicapped Parking: All parking for those with handicapped passes will be FREE and located on site at the Mansfield Reformatory. 100 Reformatory Road, Mansfield, Ohio
There is a real working prison North of The Reformatory. Parking along the road, on private property, or in any prison lot will result in your car being towed-immediately.
Course Details:
The Shawshank Hustle race course starts and finishes at The Ohio State Reformatory and covers 4.6 miles. Along the way you will view and have opportunities to visit and get pictures at the following filming sites:
*The Bissman Building which served as The Portland Daily Bugle and Brewer Hotel
*Carrousel Antiques which was the Pawn Shop window that Red looked through at the compass that would help him find the oak tree
*Brook's Bench where Brooks sits down on the bench in Central Park to feed the birds, hoping his friend Jake (his pet crow) will show up to say hello, but he never does
*Shawshank State Prison: main filming site of The Shawshank Redemption. You can tour cell blocks, prison yard, iconic front entrance in addition to Andy's escape tunnel, The Warden's office with safe and desk, The Parole Board room and the Brewer Hotel room where "Brooks was here" is carved.
The course will take place on closed to traffic city streets from the Reformatory to The Carrousel District in Downtown Mansfield and back. Roads will be closed to traffic for your safety. Please make your spectators, fans, and family members aware of road closures. The course will offer rolling hills in a commercial area and a final Road to Redemption hill back to The Reformatory. All roads are paved and the course does cross railroad tracks twice.
There will be four on course water stops. Mile 1, Mile 2, Mile 2.7, Mile 3.6. There is a two-hour limit on the course. Course will reopen to traffic at 9:30am
For a closer look at the course route and sights along the way, please check out the STRAVA data from our course preview.
An fun view of the course can be found HERE.
Event Rules:
-The event is open to runners, walkers and is family friendly
-Runners must corral themselves based upon speed
-The courses crosses railroad tracks, please take caution.
-Everyone must have a number and timing chip to be on the course…NO BANDITS!
-No Pets
-Strollers are OK as long as you start in the back
-If you stop at the filming locations please be mindful of other participants continuing to run
-Headphones are allowed but please be aware of your surroundings
-We will not ship packets, T-shirts or awards (Unless you register with the Mail me my packet or virtual option)
-There are no refunds, transfers or deferrals
-Race will be held rain or shine
-We are not responsible for shirt sizes
Guards v. Inmates Challenge presented by Richland Public Health:
After a BIG VICTORY by the Guards in 2018, the challenge continues in 2019! Based on your predicted finishing time that you enter during registration, you will be separated as fairly as possible into two teams: Guards and Inmates. Depending on which team you are drafted on, your race bib and race shirt will be appropriately themed and that will be your "team" for race day. Shortly before the race, our Warden will grace us all with his presence and will be racing against you on race day! The team with the most participants who beat The Warden's Finishing time on race day will be declared the winner!
We will draw 10 names from the winning team at random (must be a finisher to win) and each of those 10 participants will win a FREE pair of ASICS shoes! Everyone on the winning team will receive a discount code for the 2020 event! There's a lot on the line, so get training and BEAT THAT WARDEN!
Can you beat our Warden?
Event Timing:
The Shawshank Hustle utilizes Mylaps disposable bib-tag timing technology with the help of our friends at Vertical Runner Race Management. There will be timing mats at the Start, Finish, and one location on the course for tracking purposes. Results are being streamed live at: verticalrunnerrm.com
We will also post paper copies of the results on race site near the merchandise tent.
Past Results can be found here:
Race Awards:
Are you looking to show just how fast you can escape from Shawshank? If so, we have you covered with very cool awards!
Prize packs loaded with goodies from our sponsors will be given to the following winners:
-Top 3 Overall Male and Female finishers (regardless of age)
In addition, we will award the top three male and female finishers in the below categories with custom Shawshank themed awards:
-10 & under, 11-14, 15-19, 20-24, 25-29, 30-34, 35-39, 40-44, 45-49, 50-54, 55-59, 60-64, 65-69, 70-74, 75-79, 80+ and Wheelchair
The awards ceremony will be held at the start line at 9:30am and awards will NOT be mailed…must be present to receive your award.
The 2018 Age Group Awards allowed our winners to be Commissioned Officers!
Costume Contest:
Design and wear your best Shawshank Redemption themed attire or accessory.


The rules:
-You may enter either as an individual or with a group.
-Costume must not interfere with the safety of you or those around you in any way
-You are not required to run the event in your costume
-Decisions of the judges are final!
-Judging will take place at the start/finish line at 7:00 am
Awards will take place at awards ceremony immediately after Judging and the following categories will be awarded:
-Best Shawshshank themed costume
-Best Group
-Best Individual
Show off your Fandom at our Shawshank Costume Contest!
Photography:
FREE professional photos from EnduroPhoto will be available post-race!!
View 2018 photos HERE
Post-Race Activities:
Plan to stay for food and fun following the race. Participants can us their tour ticket to tour the reformatory, visit vendors, and just take in the atmosphere of a truly unique event!
OFFICIAL AFTERPARTY: Phoenix Brewing Company 131 N Diamond St., Mansfield, OH 44902 from 9am-2pm
Beneficiary:
Proceeds will benefit the Mansfield Reformatory Preservation Society. Learn more about the mission of this great group and their efforts to preserve this amazing piece of history HERE.
Volunteers:
An event of this magnitude CANNOT happen without the help of so many dedicated volunteers! We are grateful for your help and a link to register for volunteer positions is coming soon!
25th Anniversary Details:
The 25th Anniversary Celebration of the Filming of The Shawshank Redemption is the same weekend at the Shawshank Hustle, so we get to join them in their celebration! Expect a Star-Studded cast of characters to be on site for the race along with many other exciting details. We'll add those as they become available
Hotels/Lodging:
Hotels/lodging sites can be found at the Mansfield Tourism website.
Thank you to our Sponsors!